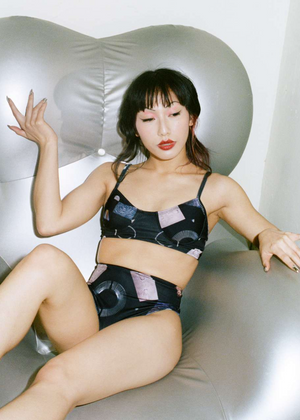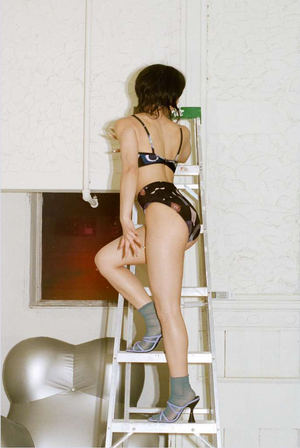 Minnow Bathers Orbit Top (Minnow x Maggie Groat Print)
MINNOW BATHERS

Bralette style top with metal closure ​in​ Maggie Groat x Minnow Bathers print. Styled here with the Comet Bottoms.

Each Maggie Groat x Minnow Bathers piece is one of a kind and features a different motif from the collage, Psychic cost > power variations. This print is included in their 2021 line, Cosmic Ocean.

Psychic cost > power variations (2017) is part of an ongoing study into imperfect symmetries and patterning. Composed of found and modified images taken from the margins of 20th century printed matter, and through processes of decontextualizing, fragmenting and halving, a proposal, a map, a power-image, emerges.

This top is constructed from high quality recycled spandex and digitally printed in Montreal.

Available in sizes XS - XXL. See pics for chart to help you choose the correct size for your swimsuit. Please note bathers do not include padding or structural support.
Made from chlorine-resistant and UV-blocking fabric, produced from 78% recycled plastics.
Hand wash in cool water with a mild washing detergent. Lay flat to dry. Do not use bleach or tumble dry. Please avoid rubbing against rough surfaces as they can cause pilling of spandex.
Made in Toronto, Canada