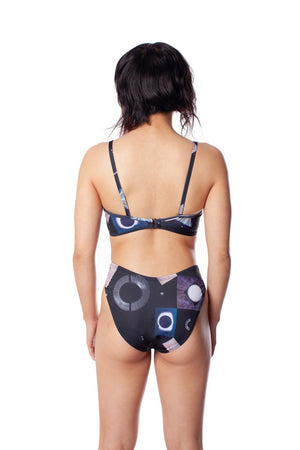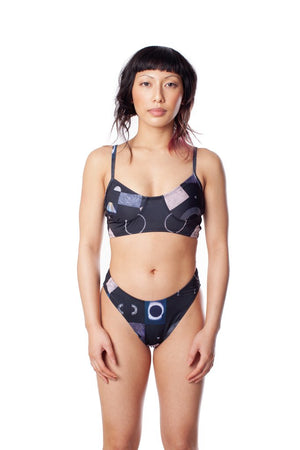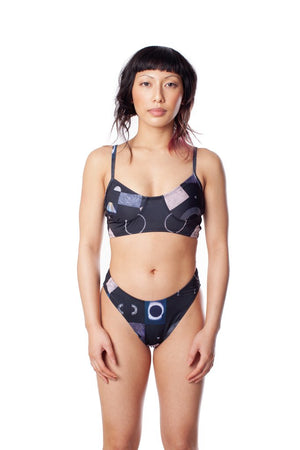 Minnow Bathers Comet Bottoms (Minnow x Maggie Groat Print)
MINNOW BATHERS

Low-cut bottoms ​in​ Maggie Groat x Minnow Bathers print. Styled here with the Orbit Top.

Each Maggie Groat x Minnow Bathers piece is one of a kind and features a different motif from the collage, Psychic cost > power variations. This print is included in their 2021 line, Cosmic Ocean.

Psychic cost > power variations (2017) is part of an ongoing study into imperfect symmetries and patterning. Composed of found and modified images taken from the margins of 20th century printed matter, and through processes of decontextualizing, fragmenting and halving, a proposal, a map, a power-image, emerges.

These bottoms are constructed from high quality recycled spandex and digitally printed in Montreal.

Available in sizes XS - XXL. See pics for chart to help you choose the correct size for your swimsuit. Please note bathers do not include padding or structural support.
Made from chlorine-resistant and UV-blocking fabric, produced from 78% recycled plastics.
Hand wash in cool water with a mild washing detergent. Lay flat to dry. Do not use bleach or tumble dry. Please avoid rubbing against rough surfaces as they can cause pilling of spandex.
Made in Toronto, Canada.
When you shop at Landing & Co. you are supporting Canadian MADE, and championing independent designers and makers from across the country! Creating swimwear that womxn feel comfortable wearing while minimizing production waste is key to the mission of Minnow Bathers. This means designing, producing, and shipping bathers in a responsible fashion. Unlike most fashion lines, Minnow produces one collection each year. They consciously design less and keep their collections small in order to produce garments at a reasonable pace. This allows them to produce their bathers by hand, locally, in Toronto, Canada. This is important because it enables them to focus on quality which enhances the value of the piece. Additionally, Minnow Bathers benefits by working to customer demand which reduces unnecessary production costs and waste. In a continued effort to reduce waste, all bathers are developed using minimal-waste pattern-making and fabric design techniques. Moreover, their fabrics are made from chlorine-resistant and UV-blocking fabrics produced from 78% recycled plastics and their latest designs are digitally printed in Montreal. As an independent manufacturer,  Minnow Bathers feel this is important because this reduces energy usage while minimizing consumption levels.
Our orders ship from our Richards Landing, Ontario, shop within 3 business days. We ship with Canada Post, if you require priority shipping please email us at hello@landingandco.ca. All purchases made online are eligible for a refund should you need one! If you happen to be in Algoma region you may return the item in person within 14 days of receiving your package. All other details can be found in our shipping and refund policies.