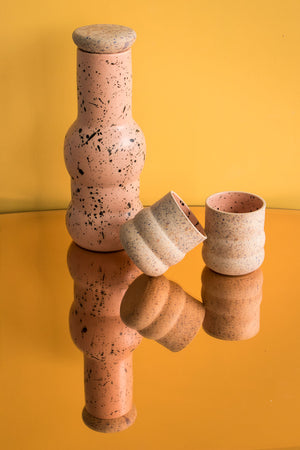 YYY Carafe + Cups
YYY - MÉRIDA ANDERSON CERAMIC

Hand thrown stoneware carafe in peach speckle with a rainbow speckle lid.  Cups have a rainbow speckle exterior and a peach speckle interior.  
Carafe is approximately 2.5" diameter at mouth and 11" tall.
Cups are 

approximately 3" in diameter at mouth and 3.5" tall.

Each piece is wheel thrown by hand and can vary slightly in size and colour from one to the next. Variations are to be embraced by the uniqueness of each piece and the nature of ceramic arts.

Sold separately.
Made in Montreal, Canada.