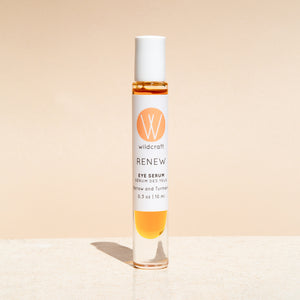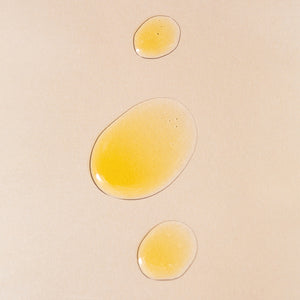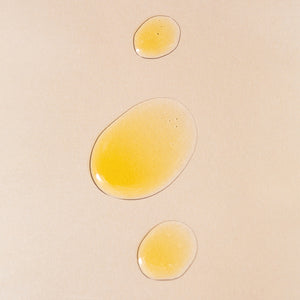 Wildcraft Renew Eye Serum
WILDCRAFT

This nutrient packed serum will help to minimize the effects of stress and the environment while leaving skin deeply moisturized, revitalized and firm. Turmeric's anti-inflammatory properties help to reduce dark circles and puffiness while yarrow has powerful emollient properties to soften and brighten dull skin.
Encourages cellular renewal

Antioxidants protect against environmental damage

Active vitamins and minerals plump and nourish the skin

Scent profile: Refreshing and earthy with a slight sweetness.

0.3oz / 10ml

Handmade in Toronto.
Ingredients: Vanilla infused Jojoba oil*, Pumpkin seed oil*, Argan oil*, Elderflower infused, Sunflower oil*, Seabuckthorn oil, Frankincense, Geranium*, Spearmint*, Turmeric, Carrot seed, and Yarrow essential oils, Rosemary leaf extract. *organic

Directions: Use after moisturizing skin, morning or night. Place roller ball in a sweeping motion across under eye area and use ring finger to gently tap and press into skin until absorbed.
Shelf life: 12 months. Since Wildcraft products are completely natural, they are meant to be enjoyed, not stored! A date stamp on the bottom of each product marks the DD/MM when it was made, so you know when it should be used by.
Product care: All products are made with fresh ingredients and need to be treated with care. To ensure that the shelf life is not compromised, avoid introducing water into the containers and handle products with clean, dry hands to prevent any contamination. Tightly secure lids and keep products in a place away from extreme heat and direct sunlight; your bathroom cupboard is a perfect spot!
Note: If this is your first time using this product, we recommend that you perform an allergy test before use. This can simply be done by applying a small amount to your forearm and waiting for 24 hours to see if any irritation occurs. If you are pregnant or are breastfeeding, you may want to speak with your health care practitioner for further guidance before using products that contain essential oils.
Made in Toronto, Canada