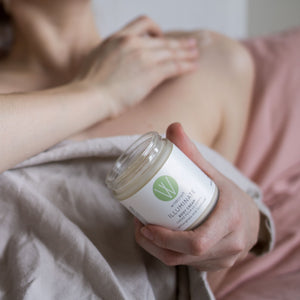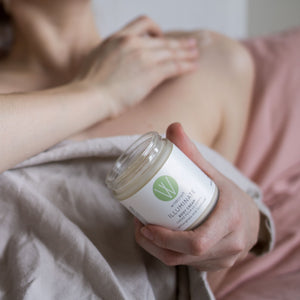 Wildcraft Lemongrass and Sunflower Illuminate Body Cream
WILDCRAFT

A sumptuous body butter that delivers visibly youthful, radiant skin from head to toe. Ideal for all skin types.
Get an instant, full-body glow. Enriched with skin-softening oils and aromatic botanicals, this rich, whipped body cream melts into skin for deep nourishment and long-lasting hydration. Aloe vera juice helps soothe dryness while coconut oil, beeswax, and Vitamin E work to lock in moisture and create a healthy-looking sheen. This nourishing formula is crafted with uplifting lemongrass essential oil to leave you subtly scented all day.
8 oz, 240 ml.
100% natural. 96% organic. Certified cruelty-free.
Benefits & Effects: moisturizing, softening, firming.

Handmade in Toronto.

More product photos below.
Key Ingredients: 

Beeswax
A powerful humectant that helps lock in moisture while conditioning, soothing, and calming the skin.

Aloe vera juice
Historically referred to as "the plant of immortality." Rich in vitamins and antioxidants to soothe and calm skin.

Lemongrass essential oil Helps to cleanse pores and tighten the skin. Its bright, invigorating scent energizes and elevates both mind and body.
Ingredients: Calendula* infused Sunflower oil*, Purified water, Coconut oil*, Aloe vera gel*, Beeswax*, Radish root ferment filtrate (leuconostoc), Ecocert approved emulsifying vegetable wax (cetearyl alcohol and sodium cetearyl sulfate), Ecocert approved Vitamin E oil, Grapefruit seed extract, Lemongrass*, Lavender*, and Bergamot essential oils. *organic

How to use: 
Overview
Like face creams, body creams can be used regularly to hydrate the surface layers of the skin. We created this luscious formula to be a bathroom staple you use year-round— whether you need extra hydration during the driest months or just want to replenish your skin after a hot bath.
Directions
1. Warm up desired amount of body cream between hands and apply to entire body
2. Massage using slow, circular motions until fully absorbed
Shelf life: This product has a shelf life of 18 months. A date stamp on the bottom of each product packaging marks the MM/YYYY when it was made, so you know when it should be used by.
All Wildcraft products are made fresh with 100% natural ingredients and without harsh or chemical preservatives. To ensure the shelf life of your all-natural product is not compromised, avoid introducing water into the container and always handle products with clean, dry hands. Tightly secure lids and store products in a cool, dry place.
Note: If this is your first time using this product, we recommend that you perform an allergy test before use. This can simply be done by applying a small amount to your forearm and waiting for 24 hours to see if any irritation occurs. If you are pregnant or are breastfeeding, you may want to speak with your health care practitioner for further guidance before using products that contain essential oils.
Made in Toronto, Canada.