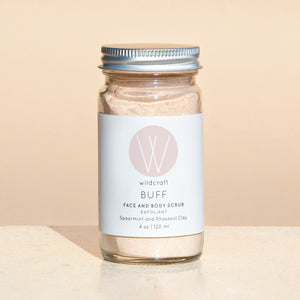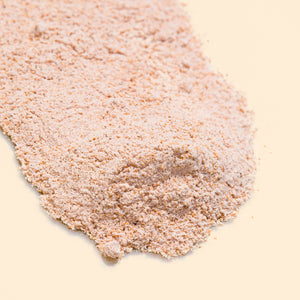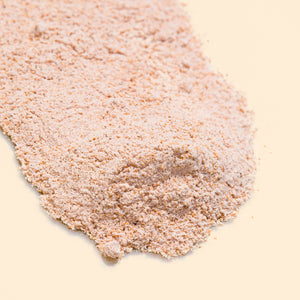 Wildcraft Buff Face and Body Scrub
WILDCRAFT

Cleanse and smooth skin with this invigorating, mineral rich exfoliant for the face and body. Gentle clays, flowers and apricot kernel shells remove dull skin and draw out impurities while antibacterial essential oils help to discourage breakouts and congestion. A regular exfoliating practice leaves skin feeling refreshed, soft and renewed, and primes skin to absorb moisture more efficiently. vegan . cruelty-free
Smooths and clears congestion

Helps discourage breakouts

Increases cell turnover and absorption of moisture

Scent profile: Refreshing, soft and minty with tea-like floral notes.

4oz / 120ml

Handmade in Toronto.
Ingredients: Rice powder*, Apricot kernel shells, Arrowroot powder, Rhassoul clay*, Chamomile flowers*, French pink clay, Sweet almond oil, Spearmint*, Peppermint, and Everlasting essential oils. *organic

Directions: Pour a nickel sized amount into palm and gently massage onto damp skin in small circular motions. Use on face and body, 1 to 3 times a week, depending on skin type and desired results. Tip: Do not open scrub under direct running water. Always ensure that the cap is securely closed in shower environments, and be careful not to introduce moisture into the product, as it is meant to stay dry.
Shelf life: 12 months. Since Wildcraft products are completely natural, they are meant to be enjoyed, not stored! A date stamp on the bottom of each product marks the DD/MM when it was made, so you know when it should be used by.
Product care: All products are made with fresh ingredients and need to be treated with care. To ensure that the shelf life is not compromised, avoid introducing water into the containers and handle products with clean, dry hands to prevent any contamination. Tightly secure lids and keep products in a place away from extreme heat and direct sunlight; your bathroom cupboard is a perfect spot!
Note: If this is your first time using this product, we recommend that you perform an allergy test before use. This can simply be done by applying a small amount to your forearm and waiting for 24 hours to see if any irritation occurs. If you are pregnant or are breastfeeding, you may want to speak with your health care practitioner for further guidance before using products that contain essential oils.
Made in Toronto, Canada
When you shop at Landing & Co. you are supporting Canadian MADE, and championing independent designers and makers from across the country! Wildcraft is a Toronto based company devoted to creating 100% natural skincare products at approachable price points. their products are thoughtfully minimalist, handmade in small batches and simply designed with fresh and organic ingredients. We believe that all natural products deliver the best skincare possible, and want to offer a truly natural skincare routine accessible to anyone. By making all of their products themselves, they can pay attention to every little detail, know exactly what is in each formulation and ensure consistently high quality. They take extra care to source beautiful ingredients that are organic, cruelty-free, never tested on animals, elemental or plant-based, sustainable, and / or socially conscious. They want to bring the luxury of natural skincare to your everyday beauty routine, and absolutely love what they do. They are constantly experimenting with new ingredients and perfecting recipes so that they can find more ways to support your skincare regime.
Our orders ship from our Richards Landing, Ontario, shop within 3 business days unless we notify you otherwise. You will be shown your detailed shipping costs upon check out. We ship with Canada Post, if you require priority shipping please email us at hello@landingandco.ca. All purchases made online are eligible for a refund should you need one! If you happen to live in Algoma region you may return the item in person within 14 days of receiving your package. All other details can be found in our shipping and refund policies.