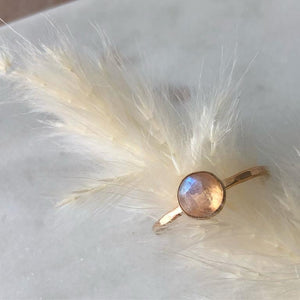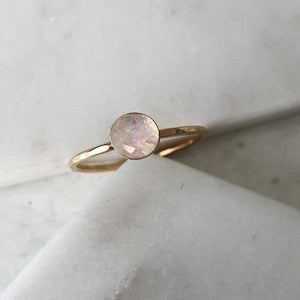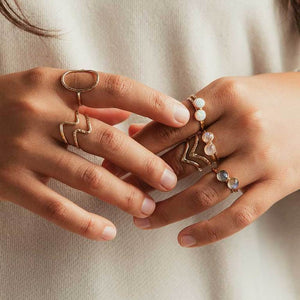 Strut Rainbow Moonstone Stacking Ring (Gold)
STRUT

Between writing emails and reaching for that third cup of coffee, you don't stop looking at your hands. So why not adorn them with something that makes you feel good? The rainbow moonstone stacking ring is the perfect fit for any outfit.
Moonstone is the stone of divine femininity and also protects while traveling. Mix and match or wear one at a time, Strut rings are low-profile and tested for durability - made for active go-getters like you. 

14k yellow gold-filled moonstone ring, perfect for stacking or wearing alone.

6mm round faceted moonstone hand-set in a gold-filled bezel, then finished, attached to a handmade gold-fill band and polished/textured by hand.
Moonstone is the stone of femininity and protects while traveling. 
Please allow variations in the natural stones. Your ring may vary in colour slightly and have flashes of blue, yellow and even pink, depending on the stone.

As with all our jewelry, made

 

using just our hands, some well-loved tools, and incredible care in Ottawa, Canada.

What is 14k gold-fill?

It's a thick layer of solid 14k gold that's been heat-bonded to a brass core. 14k gold-fill is up to 16x thicker than something that's been gold-plated. This means you'll get much more wear out of your beautiful jewels because this gold doesn't flake or rub off!

See sizing guidelines below.