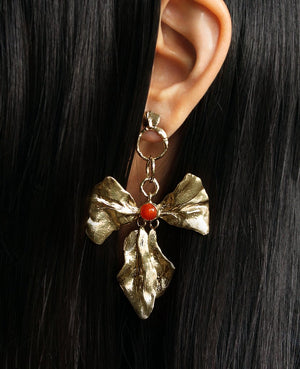 ORA-C Reign Bow Carnelian Earrings (Brass)
ORA-C

Large sculpted brass bows for your ears! Made of multiple movable parts, they are set with a small carnelian stone. Comes with sterling silver posts and large backings. Life is a gift and may as well make it a statement. Note that these earrings might be on the heavier side, but with the large backings these come with, your ears will find them comfortable.
Product details:
83mm long x 50mm wide




15g each

Handmade item
Made in Montreal, Canada
When you shop at Landing & Co. you are supporting Canadian MADE, and championing independent designers and makers from across the country! Launched in May 2015, ORA-C is a Canadian independent jewelry brand created by designer Caroline Pham. Caroline meticulously fabricates every piece by hand in her Montreal studio as unique wearable artworks. Her pieces are delicate yet bold, featuring striking color compositions. While Caroline finds beauty in the imperfections of the handmade object, her work is grounded in the value of good craftsmanship. Colorful beading, hand sculpted metal and multi-layered fringes have donned ORA-C's ever developing collections.
Our orders ship from our Richards Landing, Ontario, shop within 3 business days. We ship with Canada Post, if you require priority shipping please email us at hello@landingandco.ca. All purchases made online are eligible for a refund should you need one! If you happen to be in Algoma region you may return the item in person within 14 days of receiving your package. All other details can be found in our shipping and refund policies.