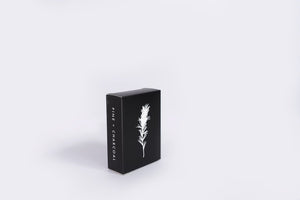 ALTR Bar Soap - Pine + Charcoal
ALTR SOAPS

Locally wildcrafted white pine comes together with charcoal to refresh and purify. As an astringent, pine hardens proteins on the surface of the skin, preventing excessive oil from accumulating in the pores upon drying. Charcoal's meso porous structure allows it to absorb several hundred times its own weight in impurities. This is our strongest, most deeply cleansing soap.
4oz / 120g

Ingredients: organic olive oil, organic coconut oil, organic shea butter, avocado oil, sodium hydroxide, organic castor oil, pine infusion, charcoal, pine essential oil, cedar essential oil, vetiver essential oil, lime essential oil.
Made in Hamilton, Canada.